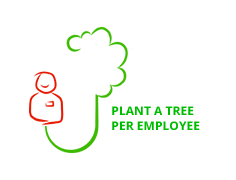 Every year Deutsche Post DHL donate one tree per employee in their Danish organization.
Trees donated in total: 3,394
Deutsche Post DHL have a goal to halving its CO2 emission by 2025 and to become a CO2 neutral logistics company by 2050.
"We know that we are very ambitious, but looking back on our previous climate goals we have been able to reach them earlier than planned. One of the initiatives to reach the goal above is to plant 1.000.000 trees worldwide. DHL Denmark have so far supported this goal by planting one tree per employee for 2017 and 2018 via Growing Trees Network to the benefit of the Danish environment.
Peter Rønholt, Training and Global SOP Manager, DHL Express A/S