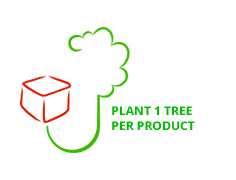 Every year since 2019 Toyota in Denmark has donated one tree per hybrid car sold.
Trees donated in total: 19,137
In 2015 Toyota launched its large-scale environmental strategy called Toyota Environmental Challenge 2050. Here, Toyota has set some ambitious goals in six different areas such as zero CO2 emissions from new mobility products throughout the life cycle from production in factories, over the use and for scrapping and recycling as well as the establishment of a future society in harmony with nature.
This means, among other things, that Toyota from the top management level prioritizes securing and even expanding forest areas in the world and at the same time creating a breeding ground for increased biodiversity.
Donating the 30,000+ trees for the new forest Søbakke skovbadeskov in Tilst near Aarhus is a clear example of this. The Japanese Shinrin-yoku is the theme of the forest and it will be finished in 2022.
"To improve our coexistence with nature, we need to protect forests and other ecosystems. Toyota runs small and large projects around the world and at all levels of the organization to support our goal of contributing positively to the local community doing afforestation and reforestation, creation of green urban areas and other environmental initiatives, "says Anders Tystrup, who is CSR responsible at Toyota in Denmark.
Helps human mental well-being
He points out that it has also been important for Toyota that the new forest near Aarhus, in addition to contributing positively to the climate and the environment, also helps human mental well-being. Therefore, the Japanese shinrin-yoku theme fits perfectly with our purpose.
The trees have been planted in 3 phases. Each phase representing the number of purchased Toyota hybrid cars in 2019, 2020, and 2021. In the future, the number of trees to be planted every year corresponds to the number of Toyota hybrid cars purchased in Denmark in the past year.
"When you buy a hybrid car from Toyota in the future, you will also help to plant an extra tree" Anders Tystrup adds.