On Friday the 22nd of May the worlds famous Danish DJ Martin Jensen will be streaming his ME MYSELF ONLINE  concert directly from the unique Forest Tower at Camp Adventure in Denmark. The concert will be streamed all over the world free of charge. The audience is encouraged to donate funds to support Growing Trees Network Foundations effort to establishing Community Forests in Denmark.
The music activities of Martin Jensen during the COVID-19 and his focus on planting trees for the climate will also be the launch of the latest initiative by Growing Trees – establishing minimum 2 Community Forests in Denmark dedicated to honor and appreciate all those who have made an extraordinary effort or sacrifice to combat the COVID-19 virus. From closed businesses, deepfelt deprivation, the distance to other people, parents teaching at home to everything we can thank each other for is what these new Community Forests are all about.
To honor and acknowledge the global effort we hereby invite citizens, foundations and companies to donate trees for these new 2-4 Community Forests. Besides inviting the Danes to donate Growing Trees is sending out an invitation internationally to other organizations to initiate something similar.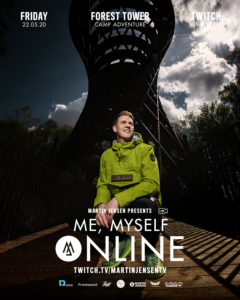 Watch DJ Martin Jensens concert on
Friday 22nd of May from 19-23 here.
The new Community Forests are expected to be established in Jutland and on Zealand and hopefully a couple of places more in the autumn of this year or the spring of 2021. Dates will be announced here.
Privat citizens can donate to the Community Forests here
Companies and foundations can donate by contacting us here
See press release here