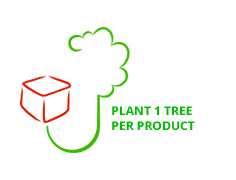 Interflora donate an amount per bouquet of flowers ordered online.
Trees donated in total: 256,000
Since 1925, Interflora has helped Danes send gift greetings to those they love.
Interflora Danmark A/S is part of Interflora, which is a worldwide organization that delivers personal and unique flower and gift greetings across national borders. Interflora Denmark, which is owned by Interflora France/MyFlower, also runs a webshop at www.interflora.dk, where customers can buy flower bouquets, chocolates, wine, and specialties for local and personal delivery through our stores all over Denmark.
In the spring of 2022 Interflora Denmark will have planted 256,000 trees in three afforestation projects in Denmark in collaboration with their customers. Every time a customer orders a bouquet of flowers online a part of the price is allocated to plant trees.
"Denmark needs more forests, and we are very proud that our customers are making it possible for us to plant 256,000 trees sending flowers to those they care about. We hope that the new forests that our customers have been helping to create by sending flowers and gift greetings through Interflora, will create joy and an extra dimension in the experience when you unfold your outdoor life in these in the future ", says Søren Flemming Larsen, who is CEO and partner at Interflora Denmark
Interflora Denmark employs around 30 full-time and part-time employees at the head office, where a team of action- and service-oriented employees are ready to help customers and partners when needed. It is also at the head office that Interflora's IT teams and marketing department are constantly responsible for improving our technological platform and ensuring that Interflora's brand retains its strong presence in the hearts of Danes.
Interflora is represented in more than 140 countries, by 40,000 florists and 32,000,000 annual bouquets sold worldwide. Worldwide, about 32 million flower greetings are delivered each year.