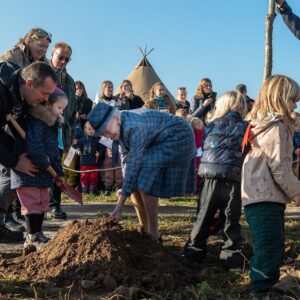 Queen Margrethe ll of Denmark plant trees with children
Børneringen (The Children's Ring) is a Danish organization who offers present, professional administration and advice to managers and boards for independent and private day care institutions
On The Children's Rings 80th birthday in 2021, the organization donated trees to Wendelholm Forest in Denmark. Their Nature and Science Festival 2021 was held at Wendelholm, where children planted trees with protector of the organization Queen Margrethe ll of Denmark.
Watch video from the event here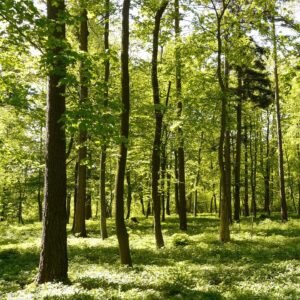 The combat against global warming
Forests have an important regulatory effect in relation to the atmospheric content of CO2. Part of the man-made climate change is due to the disappearance of large forest areas around the world. The trees bind CO2 from the air and store it in the wood, which is only released again when trees are burned or decomposed. By planting new forests, a much larger part of the atmosphere's CO2 is stored, thus counteracting global warming.
Watch the WWF video feat. David Attenborough:
'How To Save Our Forests and Rewild Our Planet' here
Donate trees and gain CO2 ownership
Your company gets the right to CO2 absorbed by planting
climate forest on private landowners' lands in Denmark, or Ecuador.
Price per tree:
In Denmark: DKK 24.00 (3.25€)
In Ecuador: DKK 24.00 (3.25€)
Read more here: Denmark or Ecuador
Donate trees for nature and more forest
Your company can help to protect drinking water, CO2 reduction,
new recreational areas and increase biodiversity.
Price per tree:
In Denmark: DKK 18.00 (2.45€)
Abroad: DKK 16.00 (2.15€)
Read more here: Denmark or abroad


Bosch donating trees in Ecuador supporting a SoMe campaign
Robert Bosch GmbH, colloquially just Bosch, is a German industrial group headquartered in Gerlingen outside Stuttgart. The Bosch Group is a leading global supplier of technology and services and the largest supplier to the automotive industry. The division Automotive Aftermarket in the Nordic donate in connection with a social media campaign for re-manufacturing of starters and alternators trees in Ecuador.
Read more here
Sunset Boulevard is planting trees per sold children menu
Sunset Boulevard is Denmark's largest Danish-owned fast-food chain with 43 restaurants spread throughout Denmark as well as one in the Faroe Islands and one in Greenland. As of September 30th 2020 they decided to completely remove plastic gadgets and toys from their children's menus and instead donate an amount per children's menu to new forests in Denmark.
Read more here.

Coffin manufacturers planting trees to reduce carbon footprint
The leading Nordic coffin manufacturing group consisting of Fredahl Rydéns, Trostrud Freno and Tommerup Heilskov mostly use Nordic wood which is why they have chosen to donate trees for afforestation projects in Denmark. As they put it; What we borrow from nature, we must return.
Read more here
DHL Divisons in Denmark planting a tree per employee
Deutsche Post DHL has a goal of halving its CO2 emissions by 2025 and being a CO2 neutral logistics company by 2050. One of the steps to achieve this goal is to plant 1,000,000 trees annually worldwide. DHL Denmark have supported this by planting one tree per employee since 2017.
Read more here
So far we have planted
3,000,000
trees in Denmark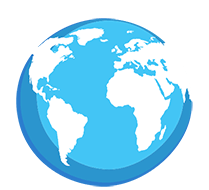 and
102,000
trees in Ghana, Kenya, Bolivia and Ecuador
CASES - GET INSPIRATION FOR YOUR CLIMATE BASED CSR EFFORT
PRODUCTS
Get inspiration on how you can build tree planting into your products, services and activities.
Price: 16 - 24 DDK per tree (2.15 - 3,25€) - depending on the forest type