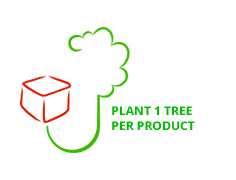 ENVO IT donates one tree per user of their Client Management product each month, as well as one tree for each sale of an IPhone or IPad and 10 trees for each Mac.
Trees donated in total: 22,632

ENVO for ENVIRONMENT
"When we created ENVO IT, the basic idea was that we want to do it differently than the industry has a reputation for:
We will deliver what we promise - without surprises.
We make sure that your IT can do what you need - and that it works when you need it.
And we want to focus on sustainability and the environment in everything we touch.
We believe in organic growth, both for ENVO IT and for the world. That is why we have created our own environmental policy that forces us to think green every day:
In addition to donating trees, we cycle or take public transport out to our customers, we never print, we recycle as much as possible and we ensure that old IT equipment and waste is recycled as best as possible. We belong to an office community, so we can share the canteen, reception and meeting rooms with others, in order to consume as little as possible when we run our business."
Karl-Emil Pedersen, Managing Partner of ENVO IT.