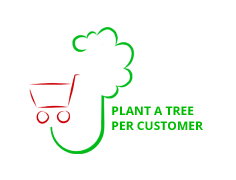 RealMæglerne A/S plants one tree for each house trade for the buyer and seller and one tree per sales assessment.
Trees donated total 46,450 trees

RealMæglerne A/S wants to contribute to a reduction in energy consumption for the benefit of the home owners and the climate. According to the Danish Energy Agency, housing and construction accounts for approx. 40 percent of Denmark's total energy consumption. With energy improvements, money is saved on the heating bill, the homes become more valuable and the climate is spared from CO2.
'My Climate Calculator' helps the home owners to choose the right solutions when they improve the energy of the home. In the climate calculator, the CO2 reduction by the selected improvements is converted to the number of trees that can absorb the same amount of CO2 each year. To keep the story going for the homeowners, RealMæglerne A/S plants one tree for the buyer and one tree for the seller in the RealMægler forests - a part of:
Tune Forest: 33,000 trees
Aars Forest: 5,850 trees
Skrillinge Forest: 7,600 trees
Preben Merrild Angelo, CEO, RealMæglerne A/S