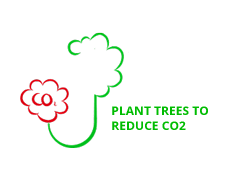 Ditur.dk offers their customers to climate offset the shipping of their orders by donating trees.
Trees donated to Forests in Denmark: 4.842
Trees donated to Climate Forests in Denmark: 14.000

Ditur.dk is Denmark's largest watch and accessory retailer. Ditur has a popular webshop as well as two physical stores - one in Hasselager south of Aarhus and one in Aarhus C. At Ditur, sustainability is a major focus, which is why we also support the Growing Trees Network Foundation through various initiatives in our company.
Environmentally friendly packaging
A major environmental initiative at Ditur is that we use recyclable paper and cardboard when we pack our customers' orders. We make sure to use minimal packaging and at the same time send our orders securely. This is done by using packaging made from a material that damages the environment as little as possible, so that we can send goods in a responsible manner with a clear conscience.
Climate compensation for a green footprint
At Ditur, we are very interested in contributing to a green footprint for future generations. We do this e.g. by supporting the planting of trees in the Danish forests. That is why we have introduced on our website the option to purchase additional climate compensation when you as a customer order goods. These donations go uncut to the Growing Trees Network Foundation, where we continuously contribute to the planting of trees in forests in Denmark.
It doesn't solve the whole problem, but it's a step in the right direction!
Owners Mikkel & Kasper Dissing