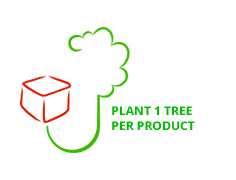 HOLMRIS B8 and their customers plant 5 trees for every workplace established in order to neutralize CO2.
Trees donated in total - 84,760:
41.880 trees to forests in Denmark
8.080 trees to Food-Forests in Ghana
6.800 trees to the Climate Forest near Galten, Denmark
8.000 trees to the Climate Forest near Næstved, Denmark
20.000 trees to the Climate Forest near Hyrup Plantage, Denmark

Furnitree
Climate change is here. Everyone wants to make an effort and make a difference. In many areas, we ourselves are part of the solution, because every action towards a sustainable future is an action against climate change.
At HOLMRIS B8, we know that we can only achieve the Paris agreement if we work together. All CO2 reducing measures make a difference. At HOLMRIS B8, we have many different actions and measures for this.
One of our contributions to achieving the Paris Agreement is that we offer Furnitree to our customers.
In short, this means that we offer our customers the purchase of trees when they buy furniture from us. Here, the calculations say right now that 1 workplace (consisting of 1 office chair, 1 table and 1 bookcase) corresponds to the emission absorbed by 5 trees.
At HOLMRIS B8, we like to be at the forefront, which is why we have of course bought trees ourselves corresponding to 420 employees = 2,100 trees. We want the trees to make a positive difference where they are planted. We therefore only buy forests that are open to the public, so that the forests can be used recreationally.
We are proud that in autumn 2022 we can say that we have contributed a total of 82,383 trees with the Furnitree concept.
Through the Growing Trees Network, we have a serious business partner who ensures that our intentions to make a difference are carried out.