Growing Trees Network Foundation on Food Forests in Ghana 2019 - 2021

Food Forests in Ghana
In Ghana we established smaller community food forests consisting of 2,000 – 5,000 fruit, herbal and nut trees to help poor villages easier access to vital food sources.
Companies donated entire community food forests or a part of it.
Individuals donated using our webshop.
In 2019 we established the first five pilot projects in the villages of Zorobogu, Alhassan Kura, Kupal Gbeni, Kurawura Kura and Nyogbeni. We learned a lot about managing afforestation projects in Ghana, and through 2021 more Food Forest projects followed professionally lead by our Ghanaian project manager Christopher.
Why establish community food forests in Ghana?
The climate challenge we face calls for action right now and it is commonly agreed among leading scientists across the globe that planting trees is the most effective way to reduce CO2. Furthermore, we see the desserts expanding forcing local communities to flee from their homes due to drought and lack of food.
In the Northern part of Ghana about 60% of the young people leave their home immediately after elementary school heading for the larger cities looking for jobs because there are no opportunities locally and in their eyes no future.
The community food forests help provide food for the community and commodities they can trade for other necessities like water, meat and vegetables.
By establishing new community food forest in Ghana, we target several of the 17 World Goals as well. 
How we worked in Ghana
Christopher, our local Project Manager and Head of Operations in Ghana scouted for new planting locations visiting local chiefs and kings to get verification as to their needs, and most importantly their willingness to actively
participate in the entire process of establishing a community forest on their land. He documented his  research information gathered from the scouting visits, including a thorough risk analysis in scouting reports for our approval. When a community was agreed upon the fundraising was initiated.
Using the donations collected by us, Christopher and his crew managed the planting of the community food forests, securing that each tree was planted with the best possible chance of survival protected from wildlife by fences. They taught the locals how to nurse and water the trees followed up by ongoing supervision.
The chief of every community getting a food forest agreed upfront to the following terms:
They provide the help needed to prepare the land and plant the trees
They run the forest organically
They themselves take care of the trees in the best possible way
The community owns what can be harvested from the trees and divide the outcome evenly among the community members
Creating local ownership is crucially important which is why the community was so heavily involved in the entire forest planting process.
The 2019 pilot projects where kindly donated by the Danish coffin manufacturer Tommerup Heilskov and the furniture company HolmrisB8.
Reading their case stories below you get further inside into why they have chosen to help establishing community food forests in Ghana and what it means to the local communities.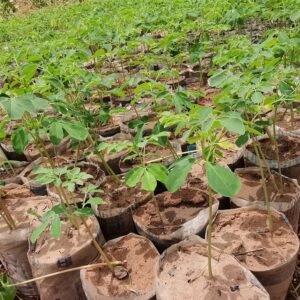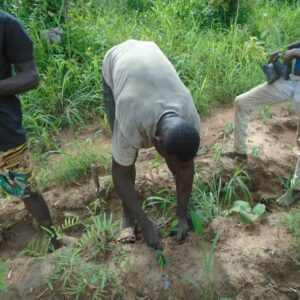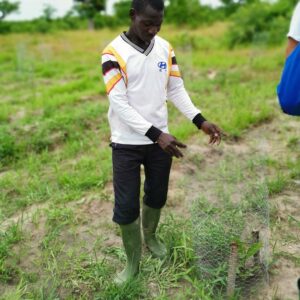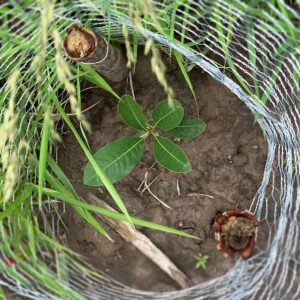 HolmrisB8 creates space for humans trough sustainable actions and initiatives benefitting the environment and humans short term and long term.
HOLMRISB8 has donated in total 8,080 fruit, herbal and nut trees equally divided for the following four villages in Ghana; Alhassan Kura, Kupal Gbeni, Kurawura Kura and Nyogbeni. A gift that is highly appreciated by the communities because it will give them a future income and a vital source of food. And furthermore, taking care of the forest will provide them with meaningful work.
Steffen Max Høgh, CSR-director at HOLMRISB8 explains why: 'This year (2019) we have decided that the donation of the 8,080 trees is our Christmas gift for our customers – the gift becoming an integrated strategic initiative. In our production wood is by far the most used material and we strive to balance our use of wood to minimize our climate impact. Of course, our tree planting effort has a climate target, but equally important we hope that the four community food forests we and our customers have donated for Ghana will support a sustainable development in the area.'
And he continues: 'By planting trees in Ghana we help the locals and benefit the environment.
The local community:
Can harvest and eat the fruit and nuts from the trees
Creating a possible future income
Creating new meaningful job like activities planting and maintaining the forest
The environment:
Trees obtain CO2 and store it
Trees are important for insects, birds and wild life
We are very pleased to be able to give this gift, the reaches into the future and benefits humans and the environment.'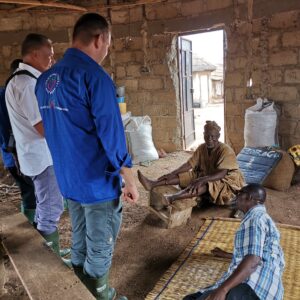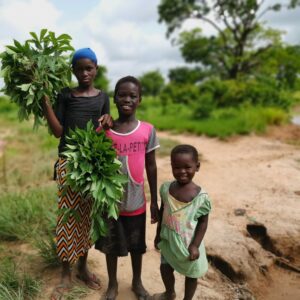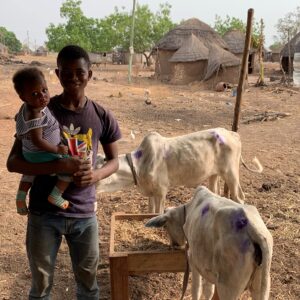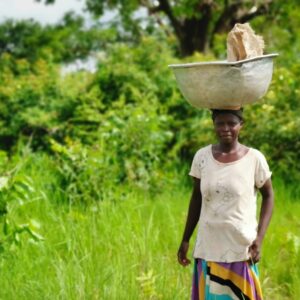 A Community food forest in Zorobogu, Northern Ghana financed by Tommerup Heilskov
For every coffin we produce one tree is planted!
That's how simple it is according to Managing director Ulrich Hein Boe Nielsen from Tommerup Heilskov. The company is the biggest manufacturer of coffins in Denmark and service provider for undertakers. Since 2014 the company has donated nearly a 100,000 trees to be planted in Denmark and now 8,888 trees for the pilot projects in Ghana.
In July 2019 Sales director Flemming Petry joined us in Ghana to celebrate the opening of the community forest in Zorobogu being the first community forest outside Denmark. Flemming joined to see the new Community food forest himself and to physically participate in planting the last trees. His presence attracted several local medias and many interviews were given.
Why trees for Ghana rather than Denmark?
'By planting fruit, herbal and nut trees in Ghana we help poor local

villages by making it possible for them to harvest vital food from the trees and on top of that we help stop dessert expansion. The trees will also act as huge vacuum cleaners sucking out CO2 from the atmosphere. In Zorobogu the locals are forced to drink dirty water from the local lake and when it dries out during the dry season, they will in the future be able to sell some of their fruits and nuts to buy clean drinking water.' Flemming says.
Lars Heiselberg Vang Jensen, Chairman of Growing Trees Network Foundation adds: 'In the spring of 2019 we visited several villages in Ghana asking them which kind of trees they would prefer in a future forest and they all answered; mango, cashew, orange, citrus and the like. And that is exactly what we have planted in the Zorobogu community food forest generously donated by Tommerup Heilskov. Zorobogu is located near Tamale in the northern part of Ghana'
Everybody can make a difference!
At home in Glamsbjerg in Denmark managing director Ulrich Hein Boe Nielsen is very happy that the trees will be helping the local community and as an add on will reduce the CO2.