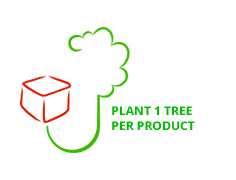 The Group consisting of Tommerup Heilskov, Trostrud Freno and
Fredahl Rydens plant trees to reduce their carbon footprint.
Trees donated in total: 311,755
WE BORROW THE EARTH OF OUR CHILDREN
What we borrow from nature, we must return. We can proudly say that we comply with this motto and give back to nature by planting trees in collaboration with Growing Trees Network. Because we use mostly Nordic wood in our factories, we see it as our duty to participate in afforestation projects here in the Nordics to the benefit of plant and animal life, the climate, groundwater reservoirs and future generations.
Together we can take care of our planet.
Choosing a coffin from Fredahl Rydéns, Trostrud Freno or Tommerup Heilskov  is an active act for the environment. Our factories are running completely on renewable energy. Waste material turns into heat and we use 99% water-based colours. We drive our own cars to ensure a high level of customer service at the same time as our planning is done with minimal environmental impact in mind. We have also developed reusable packaging. Through our products, people can say goodbye and honour the memory of their loved ones the way they want. But industrial manufacturing inevitably leads to emissions. This discharge we compensate for so we comply with the motto - 'We borrow the land from our children'.
Our compensation is done by growing trees.
Trees store carbon dioxide and planted on top of ground water reservoirs forests are the most efficient protection of our drinking water.
At the same time, the forest is a habitat for many animal and plant species and thus ensures biological diversity in our Nordic nature.
We are so pleased that we - together with our costumers - can make a contribution to a sustainable future.